For Dodge Ram 1500, Dodge Ram 2500, Dodge Ram 3500 – 2002, 2003, 2004, 2005, 2006, 2007, 2008 model year.
Fuse box in engine compartment.
fuse box location.
An integrated Power Module is located in the engine compartment near the battery. This center contains car-tridge fuses and mini fuses. A description of each fuseand component may be stamped on the inside cover.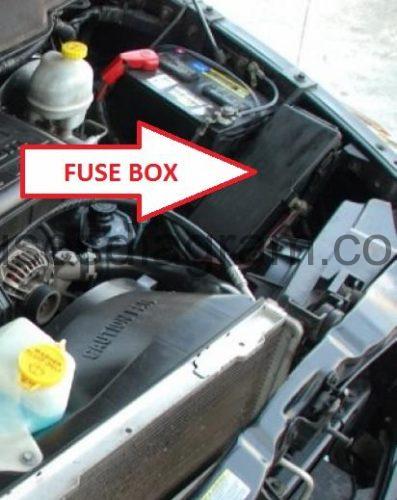 fuse box diagram.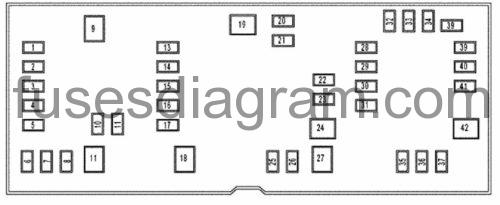 legend.
FUSE NO.

AMPS

FUNCTION

1

20A

Horn/Cigar Lighter/Power Outlet 2

2

20A

Front Lighting/Instrument Cluster/Turn Signals/Wipers

3

–

–

4

–

–

5

20A

Power Sunfoor

6

40A

Fuel/Ingition System (Diesesl)

7

15A

Transmission Control System

8

10A

Power Mirrors

9

30A

Transmission Control System (Power Wagon)

10

5A

Starting System

11

20A

Audio/Video System, Bus Communications, Horn/Cigar Lighter/Power Outlet, Instrument Cluster, Interior Lighting, Navegation/Telecommunications (Hands Free), Vehicle Theft Security System

12

30A

Trailer Tow

13

25A

All Wheel Anti-Lock Brakes/Rear Wheel Anti-Lock Brakes

14

15A

Front Lighting, Rear Lighting, Turn Signals

15

20A

Trailer Tow

16

15A

Front Lighting, Interior Lighting, Rear Lighting, Turn Signals

17

–

–

18

40A

All Wheel Anti-Lock Brakes

19

30A

Trailer Tow

20

10A

Occupant Restraint System

21

10A

Occupant Restraint System

22

2A

Igntion Switch

23

10A

Air Conditioning, Overhead Console

24

20A

Audio/Video System

25

10A

Power Mirrors

26

15A

Rear Lighting, Trailer Tow, Vehicle Speed Control

27

40A

Power Seats

28

10A

All Wheel Anti-Lock Brakes, Fuel/Ignition System, Rear Wheel Anti-Lock Brakes, Vehicle Theft Security System

29

10A

Bus Communications, Instrument Cluster,

Navigation/Telecommunications (Hands Free), Power Door Locks, Transmission Control System (Electronic Transfer Case/Power Wagon)

30

–

–

31

15A

Charging System, Fuel/Ignition System, Transmission Control System (Electronic Transfer Case)

32

10A

Air Conditioning, Convenience Systems, Power Seats

33

–

–

34

–

–

35

15A

Instrument Cluster

36

25A

Audio/Video System

37

–

–

38

20A

Horn/Cigar Lighter/Power Outlet

39

10A

Audio/Video System, Occupant Restraint System (Side Airbags)

40

20A

Horn/Cigar Lighter/Power Outlet

41

–

–

42

30A

Fuel/Ignition System (Diesel)